The Best Western Hôtel Les Bains Perros-Guirec
a cosy Best Western hotel in the heart of the Côtes d'Armor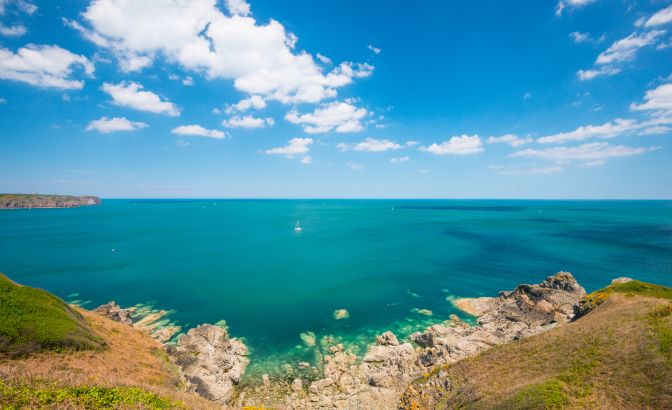 Situated on the seafront, the Best Western Perros-Guirec hotel is a haven of relaxation and comfort. It is located near the Pink Granite Coast, a famous protected natural site in Brittany, which invites you to contemplate, with its unusual shaped rocks, between land and sea.
The Best Western Perros-Guirec hotel, in the middle of majestic landscapes
Perros-Guirec, a commune in the Côtes d'Armor department, is a charming seaside resort. Visitors like to linger here because of its privileged position in the heart of a grandiose natural site: the Pink Granite Coast. Sometimes rising from the waves, sometimes anchored to the land, enormous rocks dot the coast. The sun subtly illuminates the pink granite, while the Breton winds caress the unlikely angles of these impressive rocks.
It is possible to contemplate this unreal landscape by taking the Douaniers' path. Accessible from the Best Western Hôtel Perros-Guirec, this path runs along the superb Pink Granite Coast. Once the walk is over, the hotel's spa allows you to relax in an atmosphere of well-being, with massages, treatments and a fitness centre.
Multiple activities
After a well-deserved night's rest in one of the comfortable rooms of the Perros-Guirec hotel, guests can enjoy a swim in the sea. Located 40 metres from the hotel, the fine sandy beach of Trestraou invites you to relax. The pier located on this sandbank allows you to embark for the 7 islands, an important ornithological reserve. After this visit, the more athletic can enjoy the 18-hole golf course, 10 minutes from the hotel, while families will be delighted to discover the Gallic village of Pleumeur-Baudou. Once these activities are over, the day ends in a climax, with the sunset tinting the pink of the exceptional granite complex of the Ploumanac'h site with orange.