Our Hotel Les Bains in Perros Guirec
a Breton Spa hotel located in the centre of the Pink Granite Coast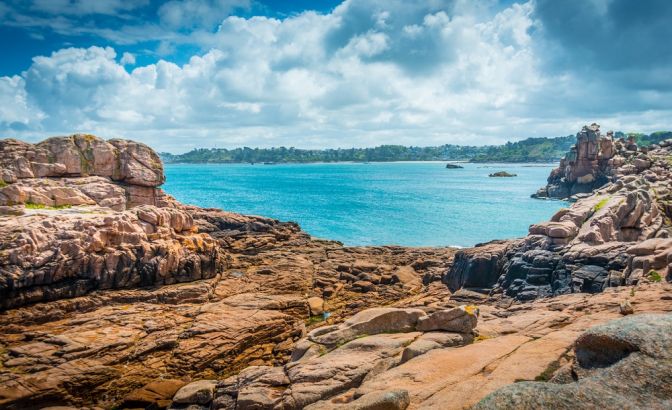 Between land and sea, the pink-tinted rocks rise up in majestic and atypical blocks. The hotel Les Bains Perros Guirec, near the Pink Granite Coast, invites you to relax, before setting off to explore this grandiose and chimerical landscape.

The hotel Les Bains Perros Guirec, in the heart of the Pink Granite Coast
Perros-Guirec, a commune in the Côtes d'Armor department, is a charming seaside resort. Visitors like to linger here because of its privileged position at the centre of a protected natural site: the Pink Granite Coast. The best way to appreciate all its aspects is to follow the "sentier des Douaniers". Accessible from the Best Western Hotel on the Pink Granite Coast, this path runs along the seafront and allows you to admire the 300 million year old granite complexes. The Ploumanac'h point is the highlight of the tour, with its impressive scattered blocks forming concentric sets. The Breton winds blow along the steep, strange shapes of the rocks, which reach for the sky in a soft pink/orange atmosphere. After this walk, there is nothing better than to find the refined and soothing decor of the spa of the Best Western Hôtel Les Bains Perros-Guirec. The relaxation area offers a fitness centre, a hammam, a jacuzzi and even an herbal tea room.

Diverse tourist attractions
Situated on the seafront, the hotel offers easy access to the fine sandy beach of Trestraou. Nature lovers can embark directly to the 7 islands, the most important ornithological reserve in France. As for the pretty town of Perros-Guirec, with its sweet scent of hydrangea, its emblematic flower, it offers interesting sights to discover: typical fishermen's harbour, old quarter of stone houses, tide mills... Following the Kerrougant stream, it is also possible to explore the steep slopes of the Traouïero valley. Before reaching the comfortable rooms of the Best Western Hôtel de la Côte de Granit rose, for a well-deserved rest...