Luxury hotel in Perros-Guirec
well-being and discovery of the Côtes d'Armor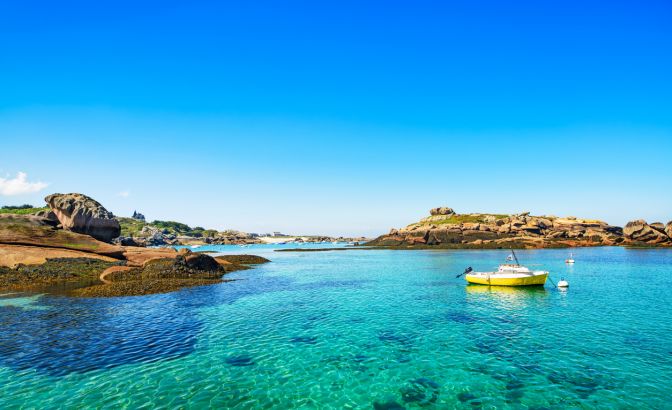 Relaxation and sightseeing are on the agenda during a stay at the Best Western Perros-Guirec luxury hotel. The fine sandy beach of Trestraou and the hotel's spa invite you to relax, while the many islands and the famous Breton pink granite coastline are a source of wonder for the curious.
A charming hotel in Perros Guirec dedicated to relaxation
Perros-Guirec is a charming commune in the Côtes d'Armor department, which smells of hydrangea, its emblematic flower. This seaside resort is distinguished by its villages, its tide mills and its typical fishing ports. In this soothing atmosphere, visitors can enjoy sunbathing on Trestraou beach, before heading to the charming Perros-Guirec hotel, located just behind the seafront. The residence provides comfort and calm, with modernly decorated rooms in soft colours. For a moment of relaxation, simply join the refined atmosphere of the wellness centre to enjoy a herbal tea after a relaxing massage. The spa includes a fitness centre, Jacuzzi and steam room.

A hotel in the heart of the Pink Granite Coast
On leaving the Best Western Perros-Guirec luxury hotel, a supernatural landscape is offered to the astonished eyes of visitors. Just take the "sentier des Douaniers" and walk along the 9 kilometres of the Pink Granite Coast. Heavy rocks with unusual shapes are scattered between land and sea, in a landscape tinted pink. The highlight of the walk is the famous village of Ploumanac'h, with its impressive 300 million year old granite. Seabird enthusiasts can explore the 7 islands, a renowned bird sanctuary, from the pier, just a short walk from the hotel. Other wonderful islands such as the island of Bréhat, known as the land of flowers, invite nature lovers to embark on a cruise in the Breton sea. After all these activities, the comfort of the charming hotel Perros Guirec brings peace to the most tired.